Placements Department
The Placements of Malla Reddy Engineering College for the academic year 2019 – 2020 has yielded 800+ offers for 600 registered students. More than 50+ companies conducted campus recruitment drive and interacted with the students of B.Tech, M.Tech, MBA across 8 departments. Reputed core companies like Techmahindra, IBM, HCL, NTT DATA, Open Text, Apps Associate etc have recruited the students. The highest salary offered this year is 14 LPA and the average salary is 3.25 LPA. A good number of UG and PG students opted for higher education in India and overseas with scholarships.
Universities opted for higher education
Carnegie Mellon University
Kent State University
University of Texas at San Antonio Graduate School
UNC Charlotte Graduate School
Wayne State University
Northern Illinois University
Purdue University
Bradley University Graduate School
Texas State University
Missouri University of Science and Technology
University of Houston Graduate School
Cleveland State University
Rochester Institute of Technology
University of Cincinnati
University of Houston
University of Delaware
PLACEMENT PROCESS
FINISHING SCHOOL
MREC has instituted a comprehensive Finishing School program for All MREC students from I year to IV year. We believe that this program will go a long way in bridging the industry-academia gap that all of us are so well aware of. The Finishing School is run concurrently with the B.Tech course, unlike other Finishing schools which are offered after the completion of B.Tech.
Syllabus:
Technical Foundation Level: C, C++, Core and Advanced Java, RDBMS, OS fundamentals, Adobe Flex. Aptitude Skills: Quantitative Techniques, Verbal Ability, Reasoning, Puzzles, General Knowledge, Group Discussion: General Interest, Creative topics, Education, Social Topics etc., ELearning: Video Sessions are available online, enabling concept revision. Students undergo one of the following programs according to the needs of the recruiting company.
Students undergo one of the following programs according to the needs of the recruiting company.
For CSE and IT students will undergo the following Technical Programs
J2EE Track: Spring, Hibernate and Struts RIA Track: HTML, CSS, JS, Ajax, JQuery. Cloud Computing, Ethical Hacking, Joomla, Drupal, Wordpress, Hadoop, Big Data. Mobile Application Track: JME, iPhone and Android Testing Track: ISTQB Certification, Web Application Testing, Mobile Application Testing, Game Testing Networking Track: Networking Fundamentals, Linux Server Configuration, Windows Server Configuration, Trouble Shooting.
For ECE and EEE students will undergo the following Technical Programs
Embedded Systems / MAT Lab / DSP / Micro Controller
For Mechanical and Civil students will undergo the following Technical Programs
Auto CAD, Pro E, ANSYS, GIS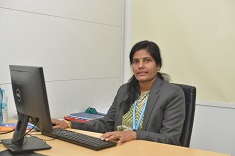 Dr G Hema Reddy
(Training & Placement Officer)
Ms Sujatha Reddy
(Training & Placement Officer)
Upcoming & Recent Placement Drives